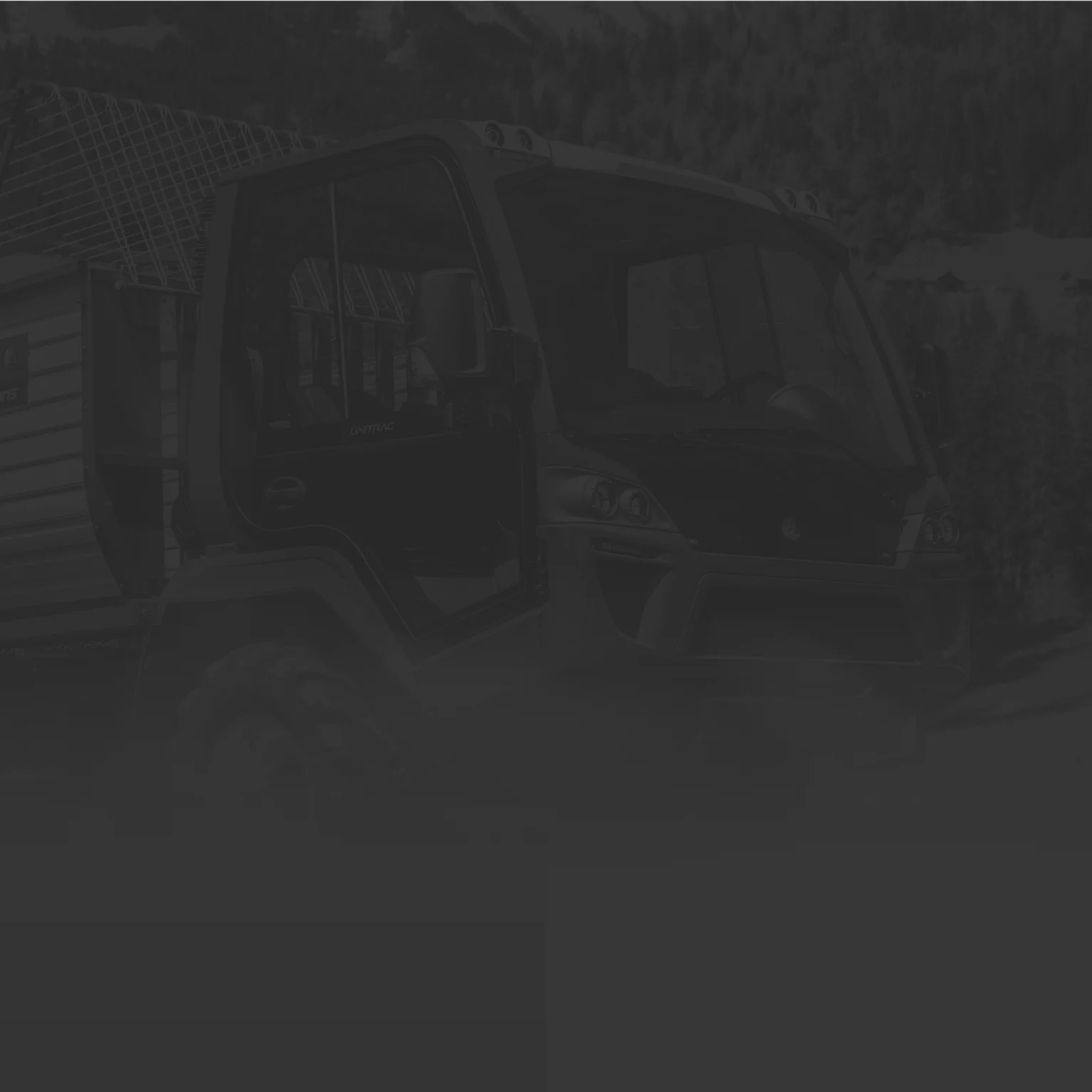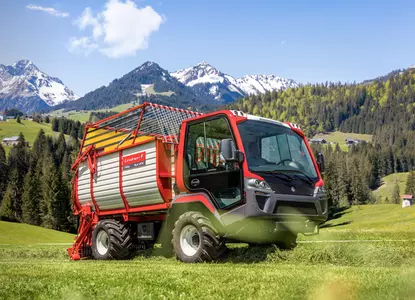 Economical and agile
Whether for clearing snow, as a sweeper, mower, for disposal or transport; the Lindner Unitrac is a versatile complete equipment carrier. Manoeuvrable and economical on the road, soil-conserving in grassland farming and safe in the field. The pioneering technology is equipped with a unique chassis concept and is therefore ready for every conceivable requirement: independent suspension, disc brakes, hydraulic suspension with level control, permanent all-wheel drive, load-switchable differential locks and much more.
At a glance
Motor
PERKINS Syncro
74,4 kw (101 hp) / 430 Nm
4-Zyl. / 3600 cm³
Common-Rail with particulate filter (DPF) & SCR
Transmission
16/16-speed split transmission
40 km/h, 50 km/h
Optional: front differential lock
Power take off
Rear PTO shaft (behind cab)
540 / 1,000 rpm
Hydraulics
Dual circuit hydraulics
185 bar
85 l/min
Dimensions
Width 2115mm
Height 2484mm
Wheelbase 2665 mm
Motor

PERKINS Syncro
74,4 kw (101 hp) / 430 Nm
4-Zyl. / 3600 cm³
Common-Rail with particulate filter (DPF) & SCR

Transmission

16/16-speed split transmission
40 km/h, 50 km/h
Optional: front differential lock

Power take off

Rear PTO shaft (behind cab)
540 / 1,000 rpm

Hydraulics

Dual circuit hydraulics
185 bar
85 l/min

Dimensions

Width 2115mm
Height 2484mm
Wheelbase 2665 mm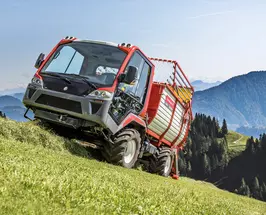 Cabin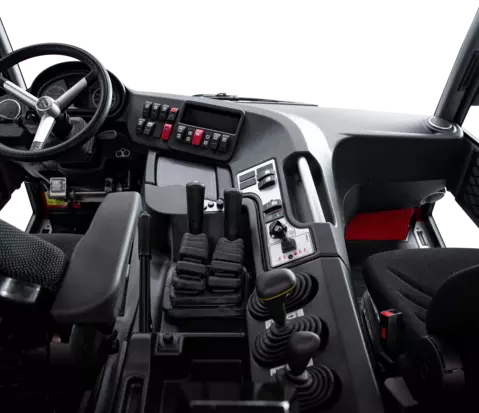 Tiltable comfort cab
Optimum all-round visibility: You can see everything: the front working area through the heatable panoramic windscreen and a clear view on the sides through the large glass doors with wide-opening sliding windows. The rear-view mirrors with integrated additional indicators are electrically adjustable and heated. The large rear window gives you an overview of the rear attachment areas.
Comfort equipment: Take a seat in the comfortable driver's or co-driver's seat with numerous adjustment options. The side armrest allows precise and fatigue-free operation of the hydraulic joystick. 3-point belts and high backrests are standard equipment in the municipal package. The storage compartments in the control desk are perfect to store your keys and mobile phones. Generous door nets offer additional storage space. The Unitrac is optionally available with air conditioning, which is installed in the cab roof to save space.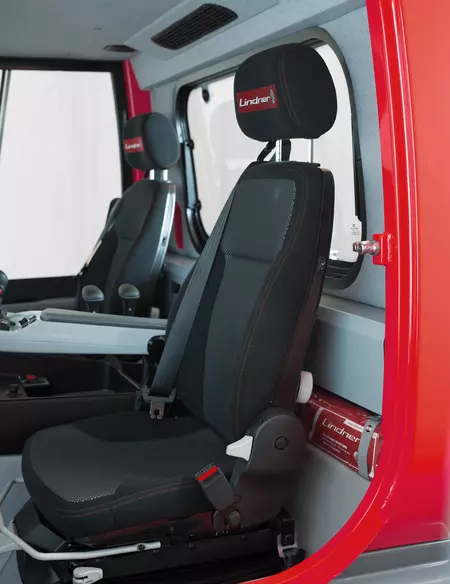 Comfort seat
The air seat in the Unitrac with 8-way adjustment offers maximum safety and comfort. The high backrest with headrest and integrated 3-point safety belt as well as the low-frequency air suspension relieve the back during long missions. A heated seat warms you in winter.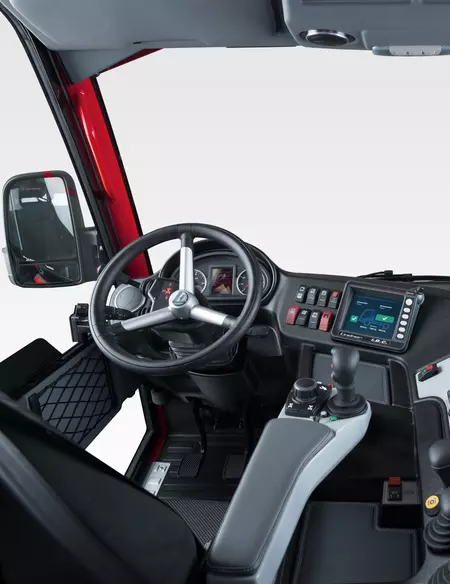 Ergonomic interior
The steering wheel can be individually adjusted to the driver by adjusting the height and incline. Important vehicle information and control displays are clearly displayed on the central information board. Further information such as total and daily operating hours or the time can be read on the additional IBC monitor. All operating levers and switches are optimally placed around the driver. The switches and displays in the Unitrac are illuminated.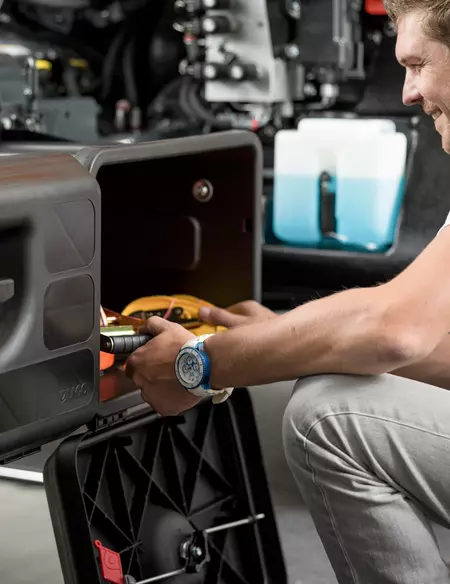 Corrosion protection
The entire vehicle frame and the comfort cabin are painted using the particularly resistant KTL process. The battery box, fuel tank and optionally available tool boxes are made of corrosion-resistant plastic.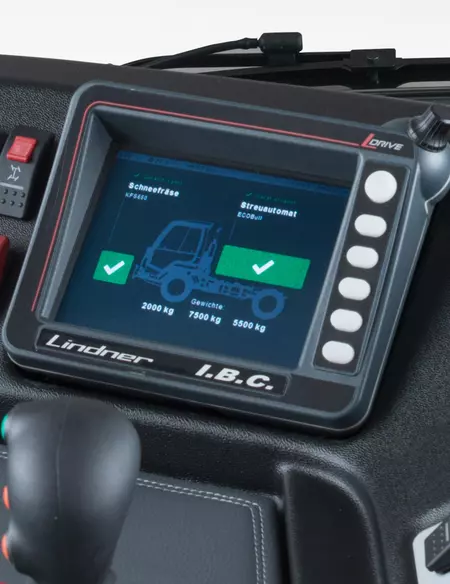 IBC monitor
The driver has an overview of important device information on the IBC monitor: axle load, total weight and device status are determined via the TRAC-Link system. Instructions, vehicle or hydraulic settings as well as images from the reversing and side cameras are displayed if necessary.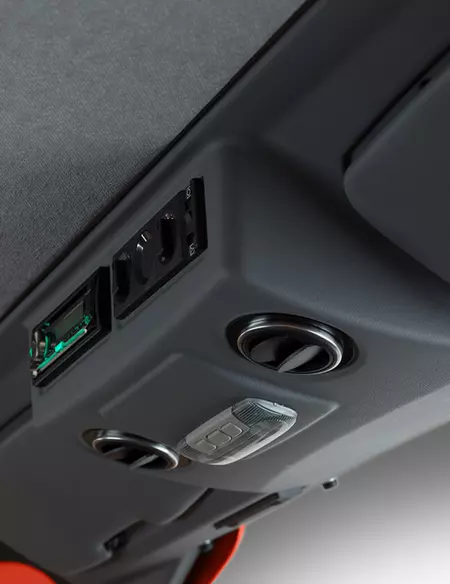 Overhead console
The radio and tachograph are easily accessible in the roof console. There are storage compartments for vehicle documents or sunglasses behind the sun visors. In addition to the interior lighting, reading lights are integrated for the driver and front passenger. The steplessly adjustable automatic air conditioning ensures an optimal working environment.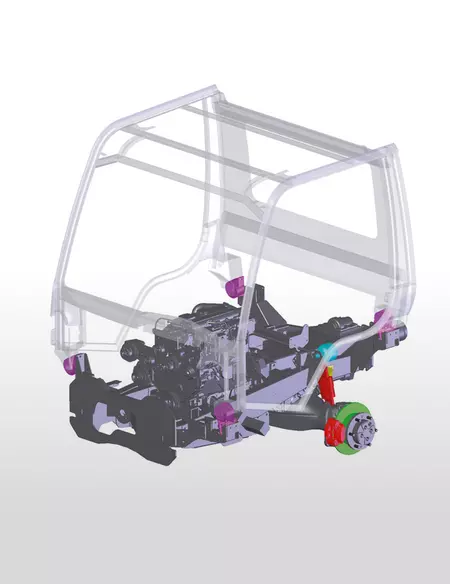 Cabin storage
The comfort cabin is mounted on 4 hydro-rubber elements and therefore particularly low-vibration. The encapsulation of the cabin creates a quiet workplace. Comfort as you know it from a car.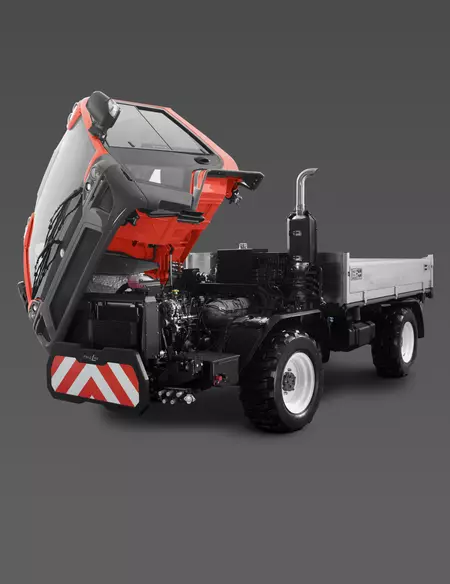 Toolless tipping
For maximum ease of maintenance, the entire cab can be tilted sideways by 50°. The tool-free hydraulic tilting mechanism makes the engine and transmission compartment freely accessible in just a few simple steps. The safety hydraulic cylinder prevents unintentional closing of the tilting mechanism. In the engine compartment there is also a safety strut with which the cab can be locked. This is stowed away and protected against vibration during the drive and is ready at a moment's notice.
Motor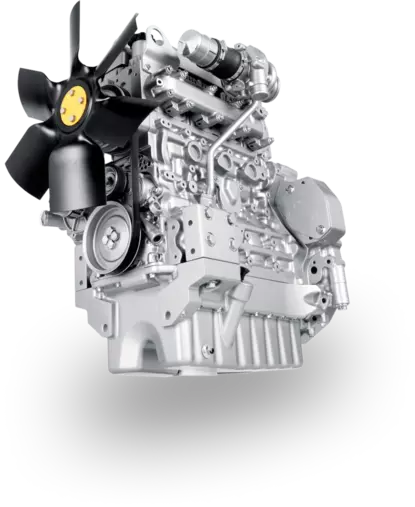 The 4-cylinder Perkins Syncro Level 5 turbo diesel engine in the Unitrac 92 P5 delivers 74.4 kW/101 hp and 430 Nm of torque at 1,500 rpm. With common rail injection, particulate filter and selective catalytic reduction (SCR), it achieves exhaust emission level 5 of the Euro standard. Due to the particularly high throughput power of the engine, the vehicle meets the toughest requirements of professional use.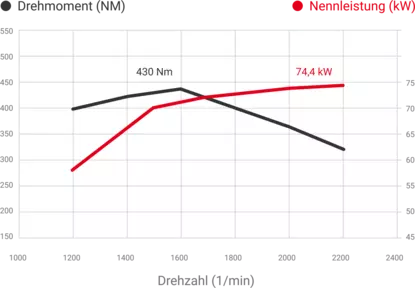 Perkins high-performance unit
more power
more torque
more capacity
lower consumption
less exhaust
less noise and vibration
easy to maintain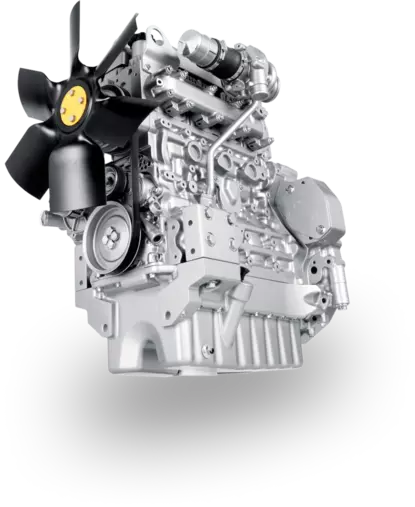 Transmission
16/16-speed split transmission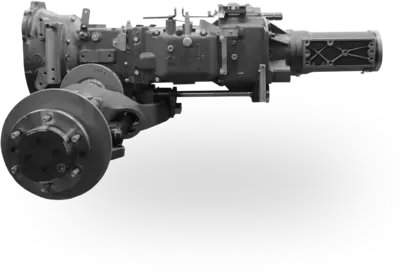 The Unitrac 92 P5 is equipped as standard with a fully synchronised 16/16-speed split transmission and a design speed of 40 km/h. Optionally, the design speed is 50 km/h.
Gears
With its 32 gears, the split transmission offers the right gradation for every application. The main work areas are switched in the terrain group. The high torque means that slow downhill driving can be mastered without frequent gear changes. In the road group, the higher gear ratio keeps the engine speed and thus the consumption low.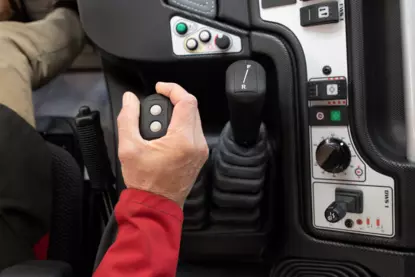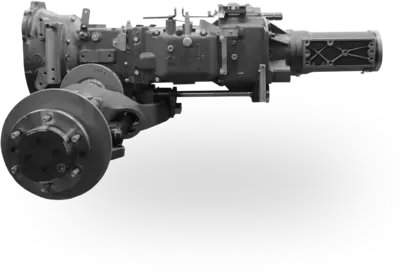 Hydraulics
Dual circuit hydraulics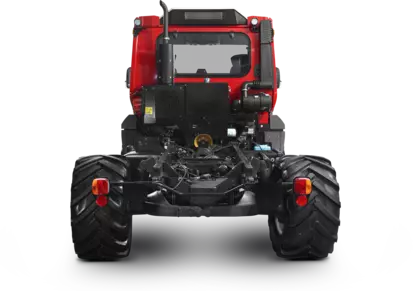 The Unitrac 92 P5 is equipped with a powerful 2-circuit hydraulic system with comfort operation. The simultaneous use of front and rear mounted equipment, such as snow ploughs and grit spreaders, is therefore possible without impairing the performance. The 50-litre hydraulic oil supply and a hydraulic output of 85 l/min (front circuit: 36 l, rear circuit: 49 l) enable a wide range of hydraulic functions to be driven side by side. The working pressure is 180 bar.
Front circuit
The front hydraulic circuit can be conveniently operated via a joystick. In the front mounting space there are two double-acting control units (one of them with float position). If a snow plough or front hydraulics are mounted on the attachment bracket, then these can be operated with the joystick with just one hand. In combination with the front PTO shaft, mowers or snow blowers can be driven, for example.
Rear circuit
For the rear hydraulic circuit, three control units are available as standard. 1x EWS, 1x proportional (oil motor, e.g. for scraper floor / grit spreader drive) and 1x DWS. Operation is carried out at the push of a button. The rear circuit can be optionally extended to include up to four single-acting or two double-acting control units.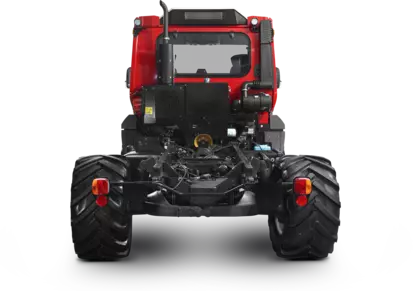 Light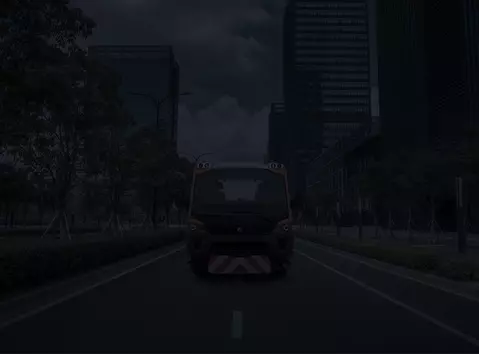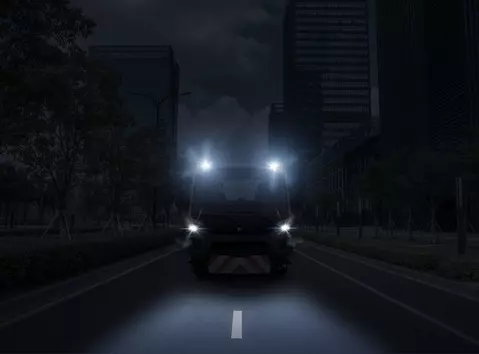 The Unitrac LDrive is equipped with an LED rear light and daytime running light rings. The light-emitting diodes are particularly energy-saving and last a lifetime of the transporter with over 20,000 operating hours.
For the high beam and low beam, Unitrac has powerful LED headlamps which, thanks to their power, are ideal for night work. Powerful H7 halogen floodlights or LED worklights are available on request
LED warning lights
For municipal use, highly visible LED rotating beacons and lighting bars are used. LED warning lights on the impact beam are fitted as standard on the municipal-use version.
Dimensions
Dimensions, tires & color selection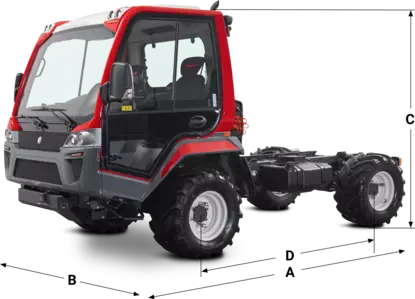 Perm. total weight

8500 kg

Max. rear axle load

4400 kg

Max. front axle load

4400 kg

Wheelbase

2665 mm

Partial height (E)

2058 mm

External width (B) with standard tires

2115 mm

Height (C) with standard tires

2484 mm
All information relates to the version with rear-axle steering - please refer to the brochure for dimensions without rear-axle steering.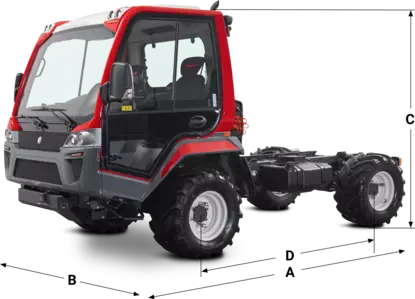 | Rear tires | Front tires | Track (D) | Outside width (B) | height (C) |
| --- | --- | --- | --- | --- |
| 15/55-17 | 15/55-17 | 1687 | 2078 | 2478 |
| 425/55-17 | 425/55-17 | 1687 | 2115 | 2484 |
| 440/50-17 | 440/50-17 | 1687 | 2128 | 2473 |
| 374/55-18 | 374/55-18 | 1677 | 2051 | 2480 |
| 275/70-19.5 | 275/70-19.5 | 1667 | 1942 | 2479 |
| 297/70-19.5 | 297/70-19.5 | 1667 | 1964 | 2493 |
| 290/80-15.3 | 290/80-15.3 | 1687 | 1977 | 2470 |